USP Labs Jack3d Advanced Formula 230 gr
USPA Labs Jack3d Advanced Formula pre-workout supplement redesigned with new ingredients and without DMAA. Jack3d Advanced Formula was improved with the aim to optimize muscular performance, increase the blood flow to the muscles and create an additional source of energy for practice.
USP Labs JACK3D ADVANCED has a new formula that has been developed precisely to provide strength and energy you need to explore and take advantage of her body, exploring the maximum advanced gains muscle mass and strength you've always wanted. JACK 3D ADVANCED FORMULA will increase your senses and energy in a way never seen before, resulting in the increase of physical prowess and stamina during workouts.
Relentless research and development led to the manufacture of a precise mixture of advanced ingredients that give name and recognition the symbol Jack3d. Researchers from USP LABS worked hard, both in laboratory and in the gym with the purpose of bringing exactly what you need to master all the obstacles you find in your workout. Jack3d Advanced Formula is the effective product for practice. Advanced Formula Jack3d is explosion unleashes itself the real potential for increasing muscle mass. With Jack3d Advanced your workouts will never be the same.
USP LABS Jack3d is a pre-workout supplement that promotes the desire to lift more weight, get more reps and have crazy lasting energy. The amount of energy and focus are perfect, pumps and Vascularity will be out of control, and the most important thing is that you will feel well throughout practice.
Jack3d formula now with new USP LABS Jack3d Advanced Formula!
Main ingredients that make up the new JACK 3D ADVANCED FORMULA:
– Advanced Creatine used in two forms mono and anhydrous, known for his ability in the strength training and endurance exercises
– Arginine nitrate is used to optimize blood flow. Arginine nitrate combined with antioxidants optimises the anaerobic performance.
– Beta-Alanine promotes acid-base balance in the body by fighting lactic acid levels and resulting in a larger capacity in high-strength workouts.
– Caffeine scientifically proven ingredient in the increase of strength during endurance training.
– Norcoclaurine is recognized as a beta-2 receptor agonist adrenérigico (vasodilatory properties). Laboratory studies of USP Labs demonstrate that can improve the sports rerndimento Norcoclaurine and increase muscle vasodilation.
After using the new JACK3D ADVANCED innovative formula you'll never be satisfied with any other pre-workout available on the market. JACK3D ADVANCEDrevolutionary formula is simply the best pre-workout developed so far.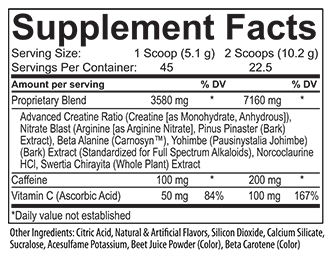 Jack3d Nutritional Information Advanced:
Other ingredients: citric acid, natural and artificial flavor, silicon dioxide, calcium silicate, Acesulfame potassium, sucralose, beet juice powder (color), beta carotene (color).
Directions for use: As nutritional complement of training, it is recommended that you follow correctly the instructions: Mix 1 as ultra-Concentrada (approximately 5.1 g) in 120 ml of cold water and consume 30-45 minutes before training. Do it in the first 3 times to consume this product. From the fourth dose, if necessary, you can gradually increase the dose by adding more 1/2 measure (2.55 g), until you reach a total of 2 full measures. Under no circumstances, exceed 2 measures in a period of 12:0 am or consume for more than 5 days in a period of 1 week. Consume at least 3.7 liters of fluid per day for men and 2.7 LITRES of liquid per day for women. The content can create deposit, so shake the container prior to each use.
Information: sports and food supplements are not intended to diagnose, treat, cure, or prevent diseases or ailments. Sports and food supplements should not overlapping a diversified power supply. Do not exceed the recommended daily dose. Use the supplements along with a controlled diet whenever possible,corposflex.com
All products in the CorposFlex Online store are sports or food supplements according to the provisions of European Directive 2002/46/EC on food supplements and all of them can be sold legally in all countries of the European Community, by articles 28, 29 and 30 of the Treaty of the European Community and by articles 1 to 4 of the European Parliament decision 3052/95/EC number.